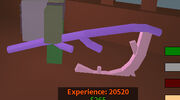 Reyne's big d... ( JK ) big scythe
Uses: No ammo.
Damage: Non-boss type Insta kill
Store cost: N/A
Rarity: Uber rare
Pros/cons
Edit
Player/zombie insta kill
Large (High chance to hit)
Large (Low Y axis hit)
Overpowered*
Large (High visibility)
Multicolor with Flames (High visibility)
 Wanted item (New players will want it)
High chance to die with it
Writer's opinion
Edit
How could you not love this?
Ad blocker interference detected!
Wikia is a free-to-use site that makes money from advertising. We have a modified experience for viewers using ad blockers

Wikia is not accessible if you've made further modifications. Remove the custom ad blocker rule(s) and the page will load as expected.